Master Gardeners who earned Certificates for March 2013:
Charlene McKean – Bronze
Gene Jarvis – Advanced, Brenda Kirchner – Advanced
Congratulations Gardeners!!
These lovely ladies (below) of the Wabash Valley Master Gardeners recently earned their certificates for February 2013. Verna Gaskin has earned the distinction, "Gold Level" Master Gardener, Sue Rosiak, "Certified" Master Gardener, Patti Weaver, "Silver Level" Master Gardener, and Peggy Harlan, "Bronze Level" Master Gardener!! Job well done ladies!!
Certificates and Badges were handed out at the WVMGA January 2013 Monthly Meeting to:
Bob Archer, Larry Agee, Yvonne Russell, Mike Sekerak, Kris Heck, Greg Fields, Ruth Johnson, Kathy Hutton. Congratulations !!
Phil Smalls earned his Master Gardeners Silver Certificate at the December 2012 meeting! Way to go Phil !! — at Vigo County Fairgrounds.
Congratulations to the Master Gardeners who received new badges at the September 2012 meeting. Pat Youman earned her Bronze Master Gardener status, and Richard Watson earned his Certified Master Gardener status, Congratulations!!
Thank you to all that came out to support the Wabash Valley Master Gardeners at the Altrusa Chili Cook Off 9/8/2012!
Our crew won the "Hottest Chili" award for the 2nd year in a row!

Carl Trent and Pat Youman getting the melon ready!
Thanks to Pat Youman and Charlene McKean for the beautiful display. We received many compliments on it!
                                                          The Hottest Chili Crew
          Charlene McKean, Phil Small, John Hilderbrand, Pat Youman, Bob Archer
                                         Yvonne Russell, Carl Trent, and Cyd Hunter!
The Chili Man with the winning secret recipe!
Where's the beef? Cyd Hunter has it!
Yvonne admiring Charlene's beautiful floral arrangments with the flowers grown at the Giving Garden!
Men at work! John, Carl, Bob and Phil.
Phil Small stirring the pot!
  Happy returning customers!!
WVMGA sends their thanks to the hosts of the 2012 Garden Tour.
Congratulations to the 2012 spring master
gardener interns.
What a great looking group!!!
Hundreds of children attended the Matter and Motion at IVY Tech.  WVMG enticed the children with creating a bird feeder.
The 2012 Gardener's Gathering was a success.
Congratulations to the master gardener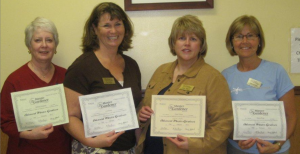 s who received new badges at the March meeting.  Paula Wilson, gold; Sharon Polge, silver; Cyd Hunter, silver; Barbara Brugnaux, advanced; and Tim Moore (not pictured), advanced.
Wabash Valley Master Gardeners participated in the tablescapes event on February 23-25 at the Ohio Building. The Master Gardener Tablescape was chosen by Frontier (Business Sponsor  of the dinner) as the "BEST FIRST YEAR DESIGN."  The table featured the giving garden.  A special thank you to Carole Dreher, Nancy Nation and Sharon Polge for creating the design.
Congratulations to January badge recipients.    Sister Terri Boland, advanced; Marlene Bilyou, certified; Kate Michaw, certified; and John Shoemaker, silver.